EXPERIENCE THE UNBELIEVABLE
CLIMB KILIMANJARO
JOIN ONE OF OUR CLIMBS
EXPERIENCE THE UNBELIEVABLE
CLIMB KILIMANJARO
ABOUT KILIMANJARO
Deep in East Africa, specifically in Tanzania, the remarkable natural wonder of Mount Kilimanjaro proudly stands. As the world's tallest freestanding mountain, it reaches an impressive 19,341 feet or 5,895 meters. Indeed, Mount Kilimanjaro is one of the coveted Seven Summits, attracting thrill-seekers worldwide.
Find out more information about the history of the mountain and how to climb Kilimanjaro.
SAFETY EQUIPMENT
Kiliwarrior Expeditions prioritizes your safety on the mountain above all else. We equip ourselves with essential safety gear. This includes a hyperbaric chamber, an automated external defibrillator, a pulse oximeter, a stethoscope, oxygen cylinders, and comprehensive first aid kits.
NO EXTRA FEES
Our packages come with no hidden costs. We provide two nights of premium hotel accommodation before the climb and one night after. We manage your airport transfers on arrival and departure. All our packages cover all taxes and government fees.
FRESH FOODS
Our highly trained chefs prepare all food fresh from scratch, suitable for high altitudes. We cater to all dietary needs, including vegan, vegetarian, and religious restrictions.
PRIVATE SHOWERS AND TOILETS
We ensure the provision of private toilet tents and shower tents at every campsite.
SOCIAL MEDIA UPDATES
We strive to share updates and photos on our Facebook or Instagram Stories during each trek. This allows your family and friends to track your progress during your journey.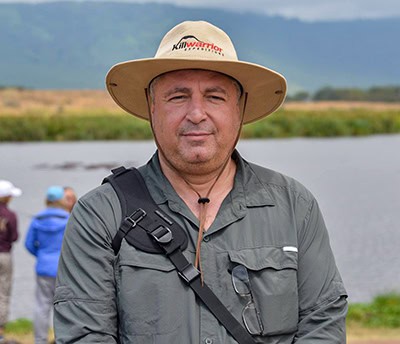 GERRY ANALYTIS
FOUNDING AND MANAGING PARTNER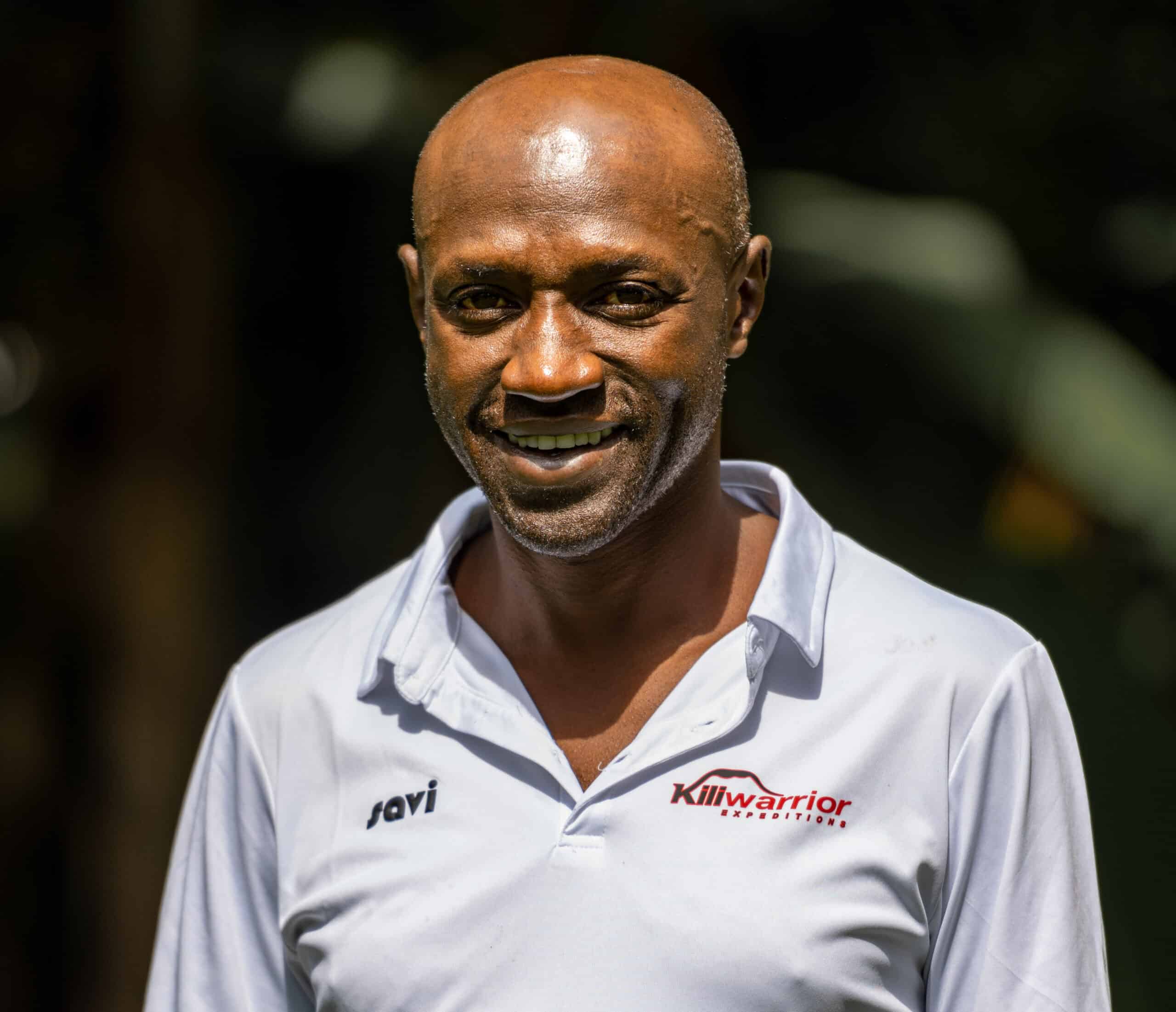 WILBERT MOLLEL
FOUNDING AND MANAGING PARTNER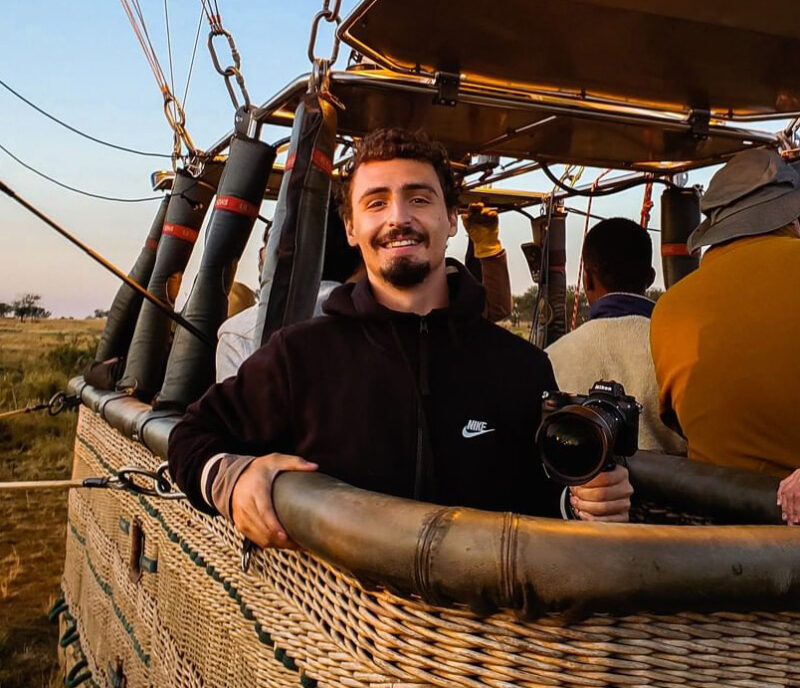 TOM ANALYTIS
MANAGER
Testimonials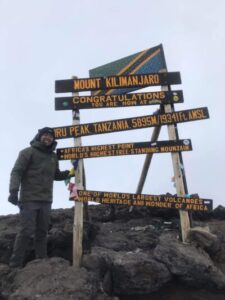 Definitely a once in a lifetime experience! I decided to hike Mt. Kilimanjaro in the summer of 2022 as a way to celebrate graduating from college as well as to challenge myself to climb the tallest free-standing mountain in the world. Prior to the climb, I was in constant communication with Tom Analytis. He was very helpful, answering all of my questions and explaining all of the routes in detail to make sure I was comfortable with all of my decisions regarding the trek.
The professionalism Tom showed and the care that the Kiliwarriors team provided was evident even before I arrived in Tanzania. Arriving in Tanzania, I was greeted by the Kiliwarriors team who took care of everything right from the beginning. The accommodations and food available at Kibo Palace was great! In addition, meeting the team during the gear check and briefing was very smooth and comforting. They made sure we had everything we needed and explained the hike in full detail. Wilburt carefully checked all of my gear prior to making sure I was prepared and had all of the necessary equipment for our hike up to the top. He explained very thoroughly what I should pack in my daypack while keeping the rest in my duffel bag.
My group was composed of 8 other hikers (besides myself) which made the experience even more special and enjoyable as I was able to enjoy the hardships as well as the triumphs with them throughout our time on the mountain. We quickly got along!
Our head-guide was Shedrak, who was very knowledgeable about the mountain. He made sure to consistently stop at certain points to teach us a little bit about the plant-life and the landscape. In addition, he made sure we were hydrated, physically well, and his enthusiasm truly helped support our morale that pushed us as we hiked to each camp. Another one of our guides, Ephata, was also amazing and made the experience even better. He was always smiling and made sure we were okay during the hikes as well as in the camps. He kept a proper and steady pace for our team.
The rest of the team went above and beyond to make sure we had the best experience possible. Mama Luis cooked some of the best food on the mountain. He alway surprised us with the dishes he would whip out from his tent on the mountain. Johannes carried my personal duffel bag and was always at the front of the campsite to greet me and help me to my tent after each day. Gilbert and Kanini also went above and beyond, and I definitely could not have completed the summit without them. They helped me especially when I was running out of energy and was struggling with oxygen and fatigue during the summit push.
This Kiliwarriors team is the best anyone could ask for and I truly could not have done it without any of them. They were so positive, accommodating, and caring. They did everything in their power to make
sure I as well as everyone else on the team succeeded in making it to the summit. All eight climbers in our group successfully summited and I believe that the Lemosho Western-Breach played a big role in that. The acclimatization the route offers allows the highest chance of success and making it to the top of Kilimanjaro. The extra time offered by this route allows you to acclimatize for the final push. The breach is also unique because it offers hikers a chance to see a variety of different things that other trekking companies do not normally encounter. For example, I thought it was a special and unique experience to be able to see the Scott Fischer memorial on the mountain. In addition, the route offers some privacy especially on Arrow Glacier camp. You also get to see and touch some of the summit glaciers on the top of Kilimanjaro, which is an experience not many get to do!
This was definitely a trip of a lifetime and I highly recommend Kiliwarriors for anyone who wants to successfully make it to the top and have a wonderful, positive, and professional team to help them achieve that goal. I came to Tanzania not knowing what to expect. I didn't know anyone on the team or who I would be climbing the mountain with. I left feeling very welcomed and felt that I have become a part of the Kiliwarrior family! I want to thank everyone at Kiliwarrior Expeditions for the memories and the experience that I will truly remember!
To anyone who is thinking about which team to join when accomplishing the dream of climbing Mt.
Kilimanjaro, I wouldn't recommend anyone else, but Kiliwarriors.
Brian Balisi (CA, USA)
STANDARD
$4,200-$5,450 USD /per person
Pricing is based on double occupancy.
ALL-INCLUSIVE
$4,600-$5,900 USD /per person
Pricing is based on double occupancy.
OUR ALL-INCLUSIVE BENEFITS
Personal Day-Pack Porter - A porter carries your day-pack, freeing you to snap pictures and videos during the climb.

Sleeping Bag - Our sleeping bags ensure you stay warm down to -18°C, maximizing your comfort.
Trekking Poles - We provide trekking poles. They aid your balance, weight distribution, and leg support, especially when descending.

Duffel Bag - We supply a duffel bag for your Kilimanjaro climbing equipment.

Safety Helmet - On our 9-Day Lemosho Western-Breach Route, you use a safety helmet for a short segment.